Today was day 2 of the Master's and an exciting time it's been. Not for golf, not for the youngest golfer at the age of 16, but because Tiger has returned to golf. Really??? Come on people, he screwed up by making some idiotic choices and it has plagued him for several months now since it was uncovered. Now the news is his return to golf………….as someone stated on another social networking site, would a plumber not return to work after this information was discovered? No, of course not. Well, the same goes for Tiger. No, I'm not a fan nor have I been from day one but I do think the media coverage has gone way overboard as well as the reactions of the fans. He's back, now let him do his job.
Now, back to the Master's…………what an exciting time. After day one, Fred Couples led with -7 to become the first 50+ to lead the course. Matteo Manassero is the youngest to participate in the Master's at the ripe old age of 16 AND made the cut to continue on through the weekend. I'm not sure if this is rare or not, but the top two spots are a tie at -8 to two English blokes. To top it off, my main squeeze (wink, wink) Phil Mickelson is tied for second with -6. Here's to you Phil, take it all!!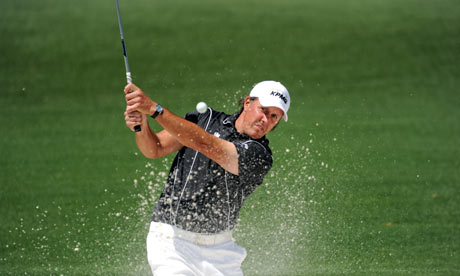 A great picture taken during day 2 by Tim Sloan/AFP/Getty Images.